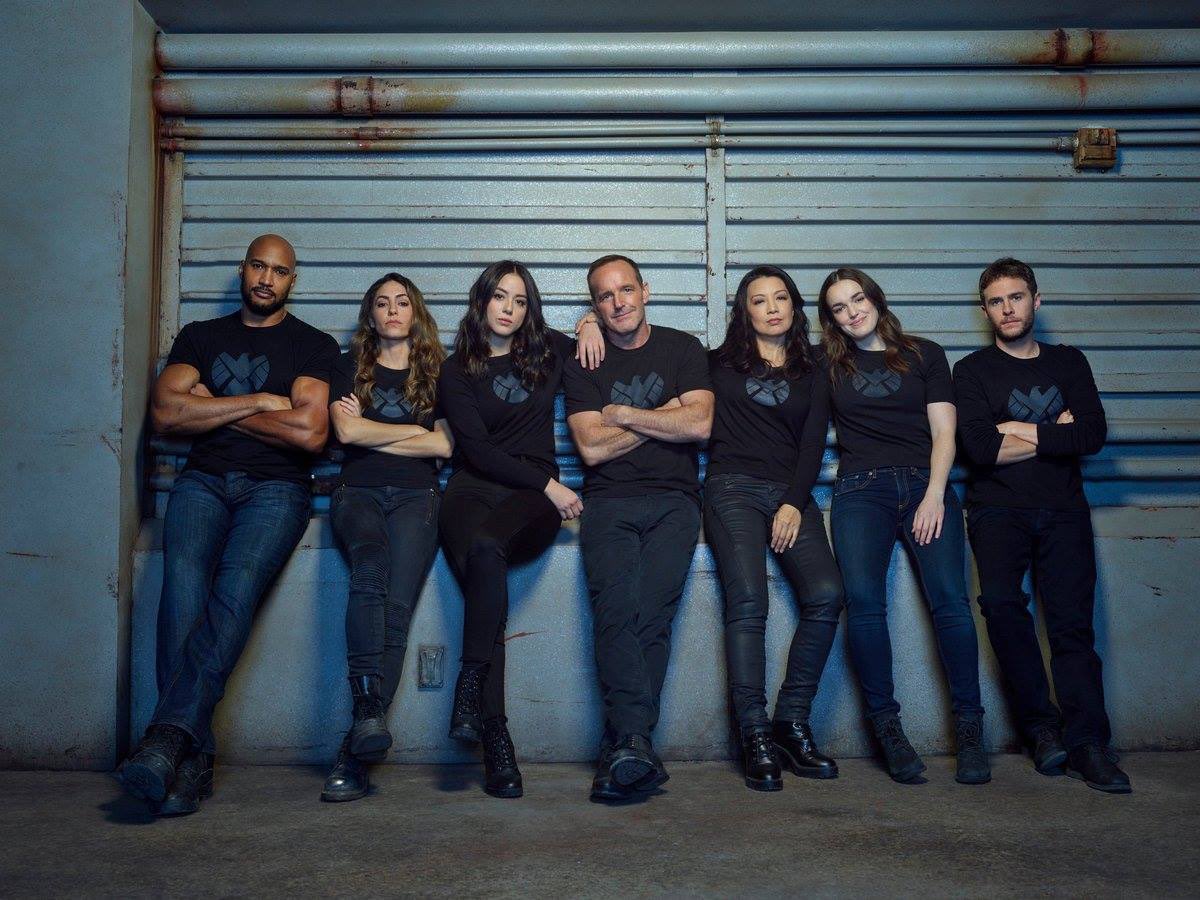 I've had some version of a "Hey, you should come back to Agents of S.H.I.E.L.D." post in my drafts for awhile now, at least since the second half of last season, when the show delivered my favorite run of episodes from any of my shows that year. At the beginning of this season (which started in December), they did another pod of episodes that I completely adored. And finally, last night, they offered a stellar 100th episode that was emblematic of everything I love about this show, even when it breaks my heart. It was dark and gritty and emotional and twisty, but still found time for levity and one of their most romantic moments to date. So, I'm saying it now: it's time to give S.H.I.E.L.D. another go.
The main reason I've stayed with this show for the past five seasons is that I absolutely love the characters and relationships. They're believable, grounded, and unbearably human in the midst of aliens and time travel and whatever other insanity befalls the team. Throughout the show's run, even if I wasn't loving a particular storyline, the characters were always there for me to enjoy. Last night's episode was fairly light on plot, fairly heavy on great moments between characters, particularly Phil Coulson and the members of his team.
Phil is undoubtedly the heart of this show, a character so great it was built on his ridiculously unbelievable, even by Marvel's standards, resurrection. Coulson—and Clark Gregg—is a huge part of why this show works. The minute you stop believing the stakes is the minute it falls apart, and Clark Gregg has been selling those stakes for the past five seasons. He had a great moment with Fitz, making him promise to finally seal the deal with lady love Jemma. He had a lovely scene with May that showed exactly how much he cares about her, even when it's to his detriment. The fact that she wasn't angrier about what he kept from her showed in a beautiful, very May way how much she cares about him, too. And he had a couple of absolutely heart-wrenching moments with Daisy, the closest person he has to a daughter.
Anchored by Chloe Bennet's wonderful performance, we saw how much Coulson trusts Daisy to take over S.H.I.E.L.D., as well as how much her love for the organization is actually a love for its members, with Coulson at the top of the list. This was one of those great full-circle moments from the pilot; Coulson recruited Daisy himself, believed in her, and in turn gave her something to believe in. Even though I obviously don't want Coulson to die, it would be very, very cool to see Daisy step into his shoes by the end of the series.
This episode also showed how progressively gritty the show's gotten. And truthfully, the darker it gets, the better the show becomes. Case in point, Daisy's speech about how debilitated the team is now: May, once their trainer and prizefighter, may never be the same. Yo-Yo literally doesn't have arms. And there was a particularly cutting comment about this not being Hydra, Leopold because, of course, sweet Fitz legitimately thought he was a Hydra agent at one point. Gone are the days of S.H.I.E.L.D. operating in the light, saving the day in a sleek, souped-up plane. Though they did make an appearance this episode, Coulson hasn't had a reason to wear his trademark aviators in a long time.
Another impressive thing about this hour was that it paid homage to the show's past without getting bogged down by excessive Easter eggs and big returns. Because truthfully, when you're taking it all the way back to Phil Coulson dying on the table in The Avengers, when you're taking it all the way back to Mike Peterson, the very first S.H.I.E.L.D. case ever, then you don't really need to show, say, Ward, especially when he just popped up in the framework. Instead, there were tastes of past villains and monsters, but far more meaningfully, they focused on the monster that is Coulson's fear of losing his family.
This aspect was done so well and fit together so believably, that for at least thirty seconds I thought: "Would they really be that ballsy? Would they really say that this whole thing was a dream?" That's a credit to the writing, and again, to Clark Cregg's fantastic performance, as well as the effective flickers of flashbacks that put you inside Coulson's head; in real life, he would have only had time to remember slivers, after all.
This episode was dark and emotional in many ways, but S.H.I.E.L.D. has always used levity beautifully, and a long, long-awaited wedding is about the best form of levity there is. When I heard there was a big 'shipper moment this episode, I assumed it would be the similarly long-awaited non-LMD Coulson/May kiss. We did get that great conversation between them, but the biggest moment was saved for FitzSimmons. I like May and Coulson together, but this felt more appropriate as the big 100th episode event. FitzSimmons are the show's longest romantic relationship, going all the way back to season one, the finale of which found them at the bottom of the ocean, a trauma they barely survived. In the last few seasons, they've spent more time apart than together. At one point, they were literally on separate planets. They're a true against-all-odds, even when the universe hates us love story and the relationship that's most representative of the show and the spirit of S.H.I.E.L.D.
As I said, this show is a lot darker than it used to be, both metaphorically and literally, but here, for this big, wonderful moment between two of its characters, everyone got to be in the light, something that lent specialness to the occasion and gave all of the characters a much-deserved break. Least of all Deke, who, because of course this show had to give us one of its patented twists in a landmark episode, just watched his grandparents get married.
What did you think of S.H.I.E.L.D.'s 100th outing? Hit the comments, and let me know!